04.12.2017 - 06.12.2017
2 minutes of reading
IFPEN, Rueil-Malmaison (near Paris) - France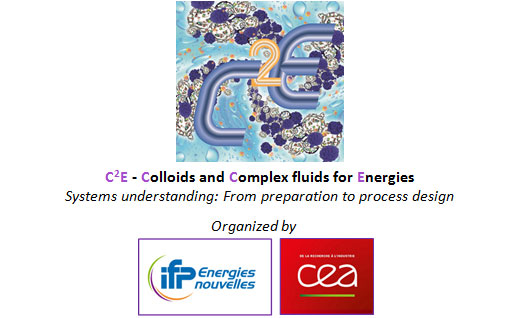 Advances in the field of colloids and complex fluids sciences will lead to the development of new efficient and eco-friendly solutions designed to address some of the energy and environment-related challenges of the 21st century.
The objectives of this international conference are to share scientific/technical advances in this field and discuss their potential to address new challenges related to oil & gas, nuclear and new energies sectors. In particular, progresses in system design, characterization, understanding and modeling will be highlighted.
The main scientific topics will be focused on:
Nanoparticles synthesis, system nanostructuration, functionalization
Dynamic interfacial phenomena understandings
Rheology, flow and diffusion in confined systems (porous media, microfluidics)
Stability, evolution and ageing of colloids and complex fluids
In-situ characterization and behavior modelling
Applications for energy, colloidal system processing, process design
Among potential applications, we can list the enhanced oil recovery, water management, flow assurance, catalysis, energy storage, biomass transformation, nuclear fuel preparation and spent fuel treatment, cleanup and dismantling as well as radioactive waste management, storage and conditioning and any other application dedicated to the development of new energies.
The program of this international conference will be structured to encourage interaction, stimulate exchange of ideas and debate still opened questions between players from the worlds of academic research, applied research and industry.
                  >>  More information on www.rs-colloids2017.com
Scientific Correspondants:

Jean-François Argillier
IFP Energies nouvelles – Process Design and Modeling Division
Tel.: +33 1 47 52 67 66 - Colloids@ifpen.fr

Sylvain Faure
CEA – Direction Energie nucléaire
Tel.: +33 4 66 39 74 19 - sylvain.faure@cea.fr

 

 

Organization :

Patricia Fulgoni 
IFP Energies nouvelles – Communications Division
Tel.: +33 1 47 52 67 21 – Colloids@ifpen.fr