05.07.2021 - 09.07.2021
2 minutes of reading
5-9 July 2021 
Paris - France
More information on www.esat2021.com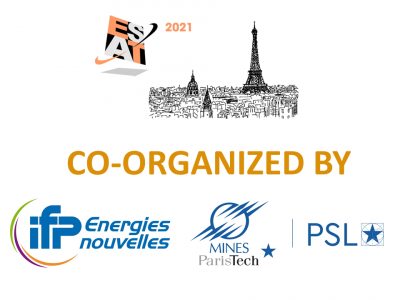 ESAT 2021 in 100% virtual, we dit it !
Near 300 participants from 37 countries
The following conferences of the keynote speakers and EFCE awards are available in replay:

- Keynote speaker, Antoon ten Kate, Nouryon - Electrolytes in industry: worth their salt
- Keynote speaker, Joachim Gross, Univ. Stuttgart  - A new approach for constructing analytic equations of state
- EFCE Michael Michelsen award lecture 2020, Gabriele Sadowski, TU Dortmund - Thermodynamics for Pharmaceutical Development
- EFCE Junior researcher Excellence award, A. Aasen - Accurate cubic equation of state for quantum fluid mixtures.
ESAT 2021 conference - 31st meeting in a series of applied thermodynamics conferences initiated in 1974 by Helmut Knapp.
      
The conference covered:
new experimental achievements,
prediction of thermophysical properties of complex systems,
molecular and statistical thermodynamics,
molecular modeling and simulation,
all of this in view of practical applications.
The recent efforts in the various fields have resulted in models, methods, tools, insights and data that allow not only solving academic problems but also contribute substantially to industrial research and process/product design and development.
     
The conference has offered a unique opportunities to gain a state of the art overview of the various topics and to create new scientific interactions and collaborations.
    
A strong contribution from industry is expected through the IUT workshop. In addition to plenary lectures, oral presentations in parallel sessions and poster sessions, we have proposed pitches for young researchers, a round table discussion focused on a topic central to industry and  industrial stands.
     
The ESAT conference was organized in cooperation with (as joint events):
the Working Party on Thermodynamics and Transport Properties:

the fifth IUT (Industrial Use of Thermodynamics) seminar will be held focusing on the use of electrolyte thermodynamics in industry,
the distinguished lecture award will be granted on that occasion to a senior member of the community,

the Section on Energy of the European Federation of Chemical Engineers, with a special session related to the use of thermodynamic tools to improve energy efficiency of processes.

                                                               More information on www.esat2021.com
Scientific Correspondents
Jean-Charles De Hemptinne
IFP Energies nouvelles - Applied Physical Chemistry and Mechanics Division
01 47 52 71 28 - ESAT2021@ifp.fr
Christophe Coquelet
Mines-ParisTech - Centre Thermodynamique des Procédés
01 64 69 49 62 - christophe.coquelet@mines-paristech.fr
Conference Organization
Patricia Fulgoni 
IFP Energies nouvelles - Communications Division
Rueil-Malmaison - France
01 47 52 67 21 - ESAT2021@ifp.fr