The Carnot IFPEN Transports Energie, a member of the Carnot network for more than 15 years!
The Carnot IFPEN Transports Energie was awarded the "Carnot Institute" label by the French Ministry of Higher Education, Research and Innovation as soon as it was launched, in 2006. It has been pursuing its mission within the Carnot network for more than 15 years now. Today, the network is made up of 39 Carnot. The objective is to pool the resources of research structures and develop partnership research to support innovation within companies - from SMEs to major groups - and among socio-economic players.
Carnot IFPEN Transports Energie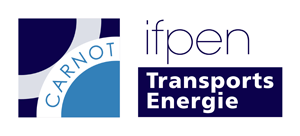 A Carnot Institute addressing the challenges of sustainable mobility
Changing transport modes coupled with climate and environmental imperatives requires an unprecedented mobilization targeting the challenges of sustainable mobility in order to:
reduce CO2 and pollutant emissions,
diversify energy sources,
take into account evolving transport modes.

To support this transformation and help companies develop a more disruptive innovation, the Carnot IFPEN Transports Energie is positioned at the heart of the sustainable mobility and energy ecosystems. We explore technological avenues relating to electrified mobility, connected mobility and mobility with a low environmental impact:

Increased innovation support for mobility sector companies
The Carnot IFPEN Transports Energie's activities are hinged around two objectives: to address the innovation needs of industry and facilitate access of companies – from micro-companies, SMEs and intermediate-sized companies to large groups – to dedicated research facilities. In concrete terms, this entails providing a structured offer to support mobility players, thereby contributing to the creation of an ecosystem of innovative companies. We are committed to supporting the innovation efforts of companies, an approach reinforced by the Carnot network in 2016, with the creation of the Carnauto and AirCar Carnot Institute projects for industrial sectors.
Target markets
•    Automobile including trucks and Off-road 
•    Urban mobility 
•    Aviation 
•    Energy 
•    Waterway, maritime 
•    Rail 
Covering all of the mobility expertise and themes of interest to the Carnot IFPEN Transports Energie, the proposed offer is hinged around three major priorities:
Innovation
The Carnot IFPEN Transports Energie develops innovative solutions to address technological challenges and market needs. It also provides companies with access to high-performance experimental resources and digital tools aimed at reducing development costs and times. These services are supported by an active policy and proven expertise in terms of industrial protection.
Technological development and technology transfer
The Carnot IFPEN Transports Energie supports industrial sectors, covering a very broad range of technological readiness levels (TRL 1 to 9). Partnership research lies at the heart of our economic model: it takes the form of joint product developments with licensing out operations, strategic partnerships or collaborative research contracts.
Collaboration and the network
The Carnot IFPEN Transports Energie enjoys privileged relations with industry (from micro-companies, SMEs and intermediate-sized companies to major industrial groups) and plays an active role in numerous competitiveness clusters (Mov'eo, CARA, Systematic, Astech, etc.). It conducts pooled and targeted activities within the context of the Carnot network for industrial sectors, as a coordinator of Carnauto for the vehicle sector and as a partner in Aircar for the aviation sector.
It belongs to international networks of academic partners and R&D laboratories and maintains an active presence within European bodies representing research and industry (EARPA, ERTRAC, EGVIA).
Expertise recognized by the public authorities
In 2018, ADEME and the Carnot IFPEN Transports Energie published the results of an "Economic, energy and environmental study for French road transport technologies" (E4T).

Appointed as an expert by the French government, and a member of the Independent Commission on Diesel Vehicle Emissions, the Carnot IFPEN Transports Energie submitted its finalized public report in 2017. The report provides an insight — particularly for the benefit of the Commission's non-expert members — into differences between emissions over harmonized test cycles and those in real operating conditions, behind Dieselgate. 
Contact

 
Gaëtan MONNIER, Director of the Carnot IFPEN Transports Energie
 
Our scientific resourcing activities supported by the Carnot network
In order to support actions implemented to achieve these objectives, each Carnot institute receives financial aid from the French State, calculated according to its volume of partnership activities. A virtuous logic, since this support enables the Carnot Institutes to conduct scientific resourcing actions (development of new methodologies, skills building, etc.) that ultimately pave the way for new partnerships.
For example, in recent years, the network's financial support has enabled the IFPEN Transports Energie Carnot Institute to carry out research on:
• the development of highly energy-efficient electrical machines,
• the development of waste energy recovery solutions based on the  Rankine Cycle (ORC),
• digitalization as a potential for reducing the energy and environmental impact of transport, 
• efficient combustion engines with a reduced environmental footprint.
News