23.01.2017
2 minutes of reading

Following the great success of the second edition at the end of 2015 – More than 5000 people signed up, with a satisfaction rate of 88% - IFP School is now launching the 3rdMOOC on sustainable mobility.
The program will run for a 4 week period, starting from 20 February 2017!
Participants will tackle a number of subjects, such as:
how engines work, 
how fuels are made, their specifications, 
how pollutants are formed and pollutant after-treatment,  
the technologies designed to reduce consumption and emission, 
and, finally, alternative solutions.
By offering a broad range of learning supports (videos, interactive quizzes, discussion forums), a mentor system and, most of all, a serious game, this 3rd MOOC retains all the hallmarks that made the previous two such a resounding success. With one new addition: a virtual tour of an engine test bench, a fun activity that will help participants understand the complex engine testing environment.
If you are a student or a motor vehicle industry professional and you're interested in the challenges related to mobility, sign up today on:
>> http://mooc.sustainable-mobility.ifp-school.com !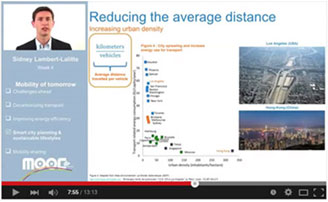 Video extracted from the MOOC IFP School: Sustainable Mobility - Mobility of tomorrow 
(YouTube - 13'13)
Useful information 
Title: Sustainable mobility: technical and environmental challenges for the automotive sector
Dates: 20 February to 19 March 2017
Enrollment free of charge on http://mooc.sustainable-mobility.ifp-school.com
Estimated workload: 2 to 3 hours per week
Language: English
Prerequisites: 2 years of higher education minimum
Program: 

Economic, energy and environment context for the transport sector
Refining and fuels
Engine technologies and components
Pollutant formation and after-treatment technologies
Mobility of tomorrow

Contact : mooc@ifpen.fr
The key figures for the 2nd "Sustainable Mobility" MOOC (end of 2015)

5205 participants
57% success rate (number of people who obtained a certificate compared to number of active participants)
95 countries
34% students
88% of participants satisfied with the course
92% of participants recommend the course
An integral part of IFP Energies nouvelles, IFP School prepares tomorrow's specialists to meet the challenges of the energy transition. Open to graduates of higher education, IFP School offers a full range of French and English programs for careers in energy-related fields(oil, gas, petrochemicals, powertrains, new energy technologies, energy markets). Enjoying close links with the worlds of research and industry, the School has acquired an international reputation as evidenced by the presence in its classes of 50% of international students from fifty countries and 80% of students receiving industry funding for their studies.