15.06.2023
2 minutes of reading
On Thursday June 15, three IFP School teams were among the six selected by the jury to present their posters orally at the international congress of the Société des ingénieurs de l'automobile (SIA) in Le Port-Marly.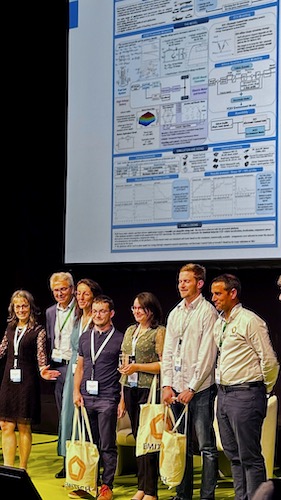 Students had ten minutes to present their work and five minutes to answer questions from the jury.

Two teams from IFP School's Powertrain Engineering (PWT) program distinguished themselves, taking second and third prize for "best student poster":
Liwei He, Dante Maria Modesti and Louis Bernaert for their poster entitled: "Energy-efficient mobility in extra-urban areas: an innovative approach";
Inès Siad, Romain Flambard and Balthazar Barron for their work on "Fuel Cell Electric Truck Sizing Platform".
 
They benefited from the unfailing support of their coaches, both IFP School alumni: Marc Guillemaud (graduate of the Energy and Processes program, class of 2012), Additives Unit Production Manager at ExxonMobil, and Martín Pérez Chuecos (graduate of the Powertrain Engineering program, class of 2017), Hydrogen Electric Powertrain Embedded Software Engineer at Green GT SA, and of course from their Program Supervisor, Maria Thirouard.

The School would like to thank its alumni for their commitment to IFP School and congratulate its talented students, who have honored the School in the field of powertrains and sustainable mobility for the 6th year in a row!
You may also be interested in