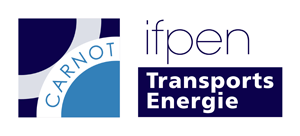 IFPEN proposes an innovative combustion system based on Swumble™ approach and advanced engine control algorithms.
IFPEN design and 3D CFD expertise, thanks to the long-term collaboration with CSI, allows a big step forward to improve flow capacity and turbulence trade-off, flame propagation and knock resistance.
Cutting-edge technologies from two major leaders, Valeo and Garrett, allow to design a very efficient EGR/air loop system.
Integration of IFPEN's commercialized algorithms is adopted by OEMs as new control strategies to satisfy real driving emissions standard.
To find out more about the Swumble™ concept, see our video:
 

---

 

High efficiency & low emissions gasoline engine prototype

•    High compression ratio > 13:1

•    Extended Miller Cycle < 140 °CA

•    High EGR tolerance > 30 %

•    Full lambda 1

•    Large high efficiency operating range > 41 %

•    High specific power 90 kW/l

 

---

 

SWUMBLE™ Fluid motion 

•    Introduction of innovative aerodynamics

•    Homogeneous mixture

•    Improved flow capacity and turbulence tradeoff

•    Fast flame propagation

•    Low soot and HC emissions

•    High knock resistance
 

 

  Native and highly turbulent aerodynamics 

   Real breakthrough in the area of gasoline engines, with significant gains compared to the Tumble motion: 

   -    Higher turbulent production with same in-cylinder flow velocity 

   -    Better trade-off between turbulence and flow capacity 

   The larger the Miller ratio, the higher the benefits of the Swumble™ concept.

 

---

 

Cutting-edge air system: a collaboration with industry leaders

    
•    High efficiency VNT turbocharger

•    Compact & fully integrated water charge air cooler

•    Well balanced high efficiency and gas permeability EGR cooler

•    Compact electrical flap valve arrangement

 

---

 

Engine Control

   
•    Full-path control to easily implement and evaluate strategies

•    Integration of commercialized IFPEN algorithms adopted by OEMs

•    Leveraging new control strategies to satisfy real driving emissions standards
Bibliography