16.05.2022
20 minutes of reading
The collection "IFPEN Economic Papers" – formerly « Les Cahiers de l'Économie », since 1990 – aims to present work carried out at IFP Energies nouvelles and IFP School dealing with economics, finance or management of the energy transition. 
 
---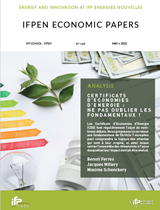 Certificats d'Economies d'Energie : ne pas oublier les fondamentaux !
N° 149 - May 2022   [ ANALYSIS ]
Benoit Ferres, Jacques Millery, Maxime Schenckery

Les Certificats d'Economies d'Energie, CEE font régulièrement l'objet de nombreux débats. Nous proposons ici un retour aux fondamentaux de l'Article 7 européen pour comprendre la logique des attentes qui sont à leur origine, et ainsi mieux cerner l'ensemble des dimensions à l'aune desquelles leur impact devrait être évalué.



 Read the article / Download (PDF - 2.6 Mo)  

---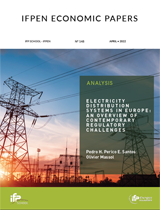 Electricity Distribution Systems in Europe: An Overview of Contemporary Regulatory Challenges 
N° 148 - April 2022   [ ANALYSIS ]
Pedro H. Perico E Santos, Olivier Massol

In Europe, a significant adaptation of the existing power distribution sector is necessary to support the transition toward low-carbon energy systems and facilitate the massive deployment of low-carbon distributed power technologies. This report first examines the current organization of that industry and highlights the country-specific and diverse nature of the industry structures and the institutional organizations governing the distribution sector.



 Read the article / Download (PDF - 3.2 Mo)  

---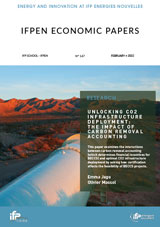 Unlocking CO2 infrastructure deployment: the impact of carbon removal accounting
N° 147 – February 2022    [ RESEARCH ]
Emma Jagu, Olivier Massol

This paper examines the interactions between carbon removal accounting (which determines financial incentives for BECCS) and optimal CO2 infrastructure deployment by asking how certification affects the feasibility of BECCS projects.



 Read the article / Download (PDF - 3.7 Mo)  

---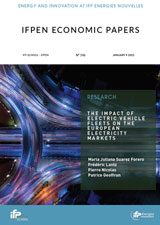 The impact of Electric Vehicle fleets on the European electricity markets: evidences from the German passenger car fleet and power generation sector
N° 146 – January 2022   [ RESEARCH ]
Maria Juliana Suarez Forero, Frédéric Lantz, Pierre Nicolas, Patrice Geoffron

The rapidly increasing participation of renewable energies (REn) into the electric mix, clearly traces the trends for the decarbonization goals in the European Union. Under the priority sale conditions established by governments, the commercialization of REn plays an important role in the consolidation of market prices, which are on a decreasing trend with large fluctuations that reduce the profit in the power sector and therefore, the interest of potential investors.



 Read the article / Download (PDF -5.2 Mo)  

---
 
> Archives of the articles ("Les Cahiers de l'Economie" - 2010 to 2021)
 
The form and content may still be provisional, in particular to encourage an exchange of views on the subjects covered. The opinions expressed in this collection are those of the authors and do not necessarily reflect the views of IFP Energies nouvelles or IFP School. Neither these institutions nor the authors accept any liability for loss or damage incurred as a result of the use of or reliance on the content of these publications. For any information on the content, please contact the author directly.