16.09.2021
20 minutes of reading
The collection "Les Cahiers de l'Économie" aims to present work carried out at IFP Energies nouvelles and IFP School dealing with economics, finance or energy transition management .
---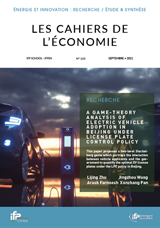 A Game-theory Analysis of Electric Vehicle Adoption in Beijing under License Plate Control Policy
N° 145 – September 2021  
Lijing Zhu, Jingzhou Wang, Arash Farnoosh, Xunzhang Pan


This paper proposes a two-level Stackelberg game which portrays the interaction between vehicle applicants and the government to quantify the optimal EV license plates under the LPC policy in Beijing. 




 Read the article / Download (PDF - 1.6 Mo)  

---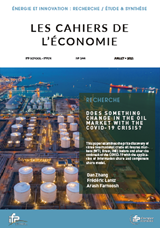 Does something change in the oil market with the COVID-19 crisis?
N° 144 – July 2021  
Dan Zhang, Frédéric Lantz, Arash Farnoosh


This paper examines the price discovery of three international crude oil futures markets (WTI, Brent, INE) before and after the outbreak of the COVID-19 with the application of information share and component share model. 




 Read the article / Download (PDF -1.2 Mo)  

---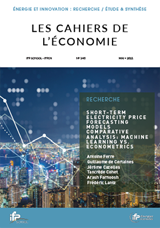 Short-term electricity price forecasting models comparative analysis: Machine Learning vs. Econometrics
N° 143 – May 2021  
Antoine Ferre, Guillaume de Certaines, Jérôme Cazelles, Tancrède Cohet, Arash Farnoosh, Frédéric Lantz


This paper gives an overview of several models applied to forecast the day-ahead prices of the German electricity market between 2014 and 2015 using hourly wind and solar productions as well as load. 




 Read the article / Download (PDF - 5.8 Mo)  

---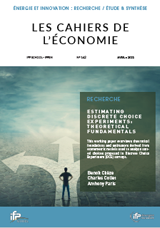 Estimating discrete choice experiments: theoretical fundamentals
N°142 – April 2021  
Benoît Chèze, Charles Collet, and Anthony Paris


This working paper overviews theoretical foundations and estimators derived from econometric models used to analyze stated choices proposed in Discrete Choice Experiment (DCE) surveys.




 Read the article / Download (PDF - 2 Mo)  

---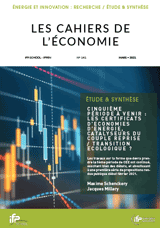 Cinquième période à venir : les Certificats d'Economies d'Energie, catalyseurs du couple Reprise / Transition Ecologique ? 
N°141 - March 2021   [ STUDY & SYNTHESIS ]
Maxime Schenckery, Jacques Millery

Les travaux sur la forme que devra prendre la 5ème période de CEE ont continué, suscitant bien des débats, et aboutissant à une première série de propositions rendue publique début février 2021.




 Read the article / Download (PDF - 1 Mo)  

---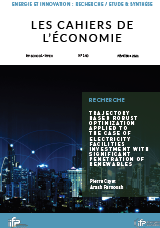 Trajectory Based Robust Optimization Applied to the Case of Electricity Facilities Investment with Significant Penetration of Renewables
N°140 – February 2021  
Pierre Cayet, Arash Farnoosh

As large scale penetration of renewables into electric systems requires increasing flexibility from dispatchable production units, the electricity mix must be designed in order to address brutal variations of residual demand. Inspired from the philosophy of Distributionally Robust Optimization (DRO), we propose a trajectory ambiguity set including residual demand trajectories verifying both support and variability criterion using ambiguous quantile information.



 Read the article / Download (PDF - 4.2 Mo)  

---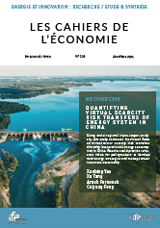 Quantifying virtual water scarcity risk transfers of energy system in China
N°139 – January 2021  
Xuebing Yao, Xu Tang, Arash Farnoosh, Cuiyang Feng

Using multi-regional input-output analysis, this study estimates the virtual flows ad virtual water scarcity risk transfers driven by interprovincial energy consumption in China. Results could provide reference value for policymakers to develop new energy strategies and manage water resources sustainably.




 Read the article / Download (PDF - 3,8 Mo)  

---
 > Archives of the articles (2010 to 2020)
The form and content may still be provisional, in particular to encourage an exchange of views on the subjects covered.
The opinions expressed in this collection are those of the authors and do not necessarily reflect the views of IFP Energies nouvelles or IFP School. Neither these institutions nor the authors accept any liability for loss or damage incurred as a result of the use of or reliance on the content of these publications. For any information on the content, please contact the author directly.
To find out more