24.09.2020
2 minutes of reading
The collection "Les Cahiers de l'Économie" aims to present work carried out at IFP Energies nouvelles and IFP School dealing with economics, finance or energy transition management.
---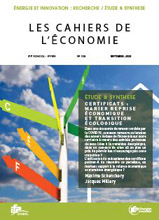 Certificats : marier reprise économique et transition écologique 
N°136 - September 2020 
Maxime Schenckery, Jacques Millery

Dans une économie durement touchée par la COVID 19, comment remettre en fonction des acteurs de base de l'économie sur notre territoire à travers des activités porteuses de sens liées à la transition énergétique, dans un contexte de crise où en plus un prix du pétrole bas n'encourage pas cette transition ?
L'utilisation du mécanisme des certificats permet-il de résoudre ce paradoxe, en mariant support à la relance économique et transition énergétique ?


 Read the article / Download (PDF - 3.2 Mo)  

---
The form and content may still be provisional, in particular to encourage an exchange of views on the subjects covered.
The opinions expressed in this collection are those of the authors and do not necessarily reflect the views of IFP Energies nouvelles or IFP School. Neither these institutions nor the authors accept any liability for loss or damage incurred as a result of the use of or reliance on the content of these publications. For any information on the content, please contact the author directly.
To find out more