04.01.2021
2 minutes of reading
The collection "Les Cahiers de l'Économie" aims to present work carried out at IFP Energies nouvelles and IFP School dealing with economics, finance or energy transition management .
---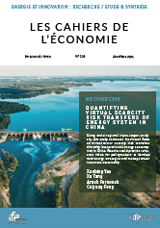 Quantifying virtual water scarcity risk transfers of energy system in China
N°139 – January 2021  
Xuebing Yao, Xu Tang, Arash Farnoosh, Cuiyang Feng


Using multi-regional input-output analysis, this study estimates the virtual flows ad virtual water scarcity risk transfers driven by interprovincial energy consumption in China. Results could provide reference value for policymakers to develop new energy strategies and manage water resources sustainably.




 Read the article / Download (PDF - 3,8 Mo)  

---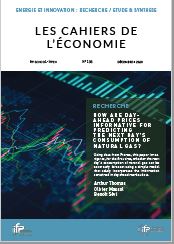 How are day-ahead prices informative for predicting the next day's consumption of natural gas?
N°138 – December 2020  
Arthur Thomas, Olivier Massol, Benoît Sévi


Using data from France, this paper investigates, for the first time, whether the next day's consumption of natural gas can be accurately forecast using a simple model that solely incorporates the information contained in dayahead market data.




 Read the article / Download (PDF - 1.8 Mo)  

---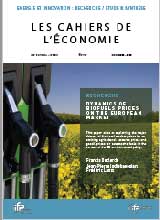 Dynamics of biofuel prices on the European market
N°137 – November 2020  
Francis Declerck, Jean-Pierre Indjehagopian, Frédéric Lantz


This paper aims at explaining the major drivers of biodiesel market prices by examining agricultural resource prices and gasoil prices for automotive fuels in the context of the EU environmental policy.




 Read the article / Download (PDF - 4 Mo)  

---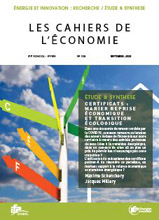 Certificats : marier reprise économique et transition écologique 
N°136 - September 2020  [ STUDY & SYNTHESIS ]
Maxime Schenckery, Jacques Millery

Dans une économie durement touchée par la COVID 19, comment remettre en fonction des acteurs de base de l'économie sur notre territoire à travers des activités porteuses de sens liées à la transition énergétique, dans un contexte de crise où en plus un prix du pétrole bas n'encourage pas cette transition ?
L'utilisation du mécanisme des certificats permet-il de résoudre ce paradoxe, en mariant support à la relance économique et transition énergétique ?


 Read the article / Download (PDF - 3.1 Mo)  

---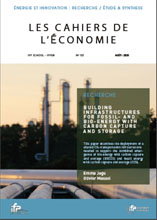 Building infrastructures for Fossil- and Bio-energy with Carbon Capture and Storage: insights from a cooperative game-theoretic perspective 
N°135 - August 2020 
Emma Jagu, Olivier Massol

This paper examines the deployment of a shared CO2 transportation infrastructure needed to support the combined emergence of bio-energy with carbon capture and storage (BECCS) and fossil energy with carbon capture and storage (CCS).



 Read the article / Download (PDF - 2.5 Mo)  

---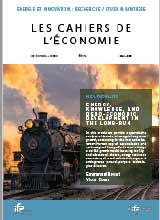 Energy, Knowledge, and Demo-Economic Development in the Long Run
N°134 – May 2020  
Emmanuel Bovari, Victor Court

In this article we provide a quantitative analysis of the role of energy in long-term growth, accounting for the interaction between human capital accumulation and technological change. To do so, we design a unified growth model featuring fertility and educational choices, energy resources extraction, directed technical change, and endogenous general purpose technologies diffusion.



 Read the article / Download (PDF – 3.5 Mo)  

---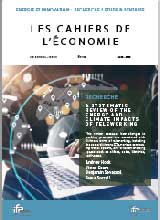 A systematic review of the energy and climate impacts of teleworking
N°133 – March 2020  
Andrew Hook, Victor Court, Benjamin Sovacool, Steve Sorrell

This review assesses how changes in working practices are associated with different forms of teleworking, including the use of different ICTs, various commuting/travel options, and different working spaces such as offices, cafes, libraries, and homes.




 Read the article / Download (PDF – 1.8 Mo)  

---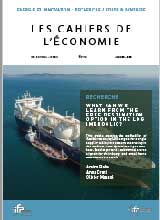 What can be learned from the free destination option in the LNG imbroglio?
N°132 – January 2020  
Amina Baba, Anna Creti, Olivier Massol

This article examine the profitability of flexible routing by LNG cargoes for a single supplier taking into account uncertainty in the medium-term dynamics of gas markets. Results portend a substantial source of profit for the industry and reveal future movements of vessels.




 Read the article / Download (PDF – 3 Mo)  

---
 > Archives of the articles (2010 to 2019)
The form and content may still be provisional, in particular to encourage an exchange of views on the subjects covered.
The opinions expressed in this collection are those of the authors and do not necessarily reflect the views of IFP Energies nouvelles or IFP School. Neither these institutions nor the authors accept any liability for loss or damage incurred as a result of the use of or reliance on the content of these publications. For any information on the content, please contact the author directly.
To find out more