Today, air quality is an issue of major concern when it comes to public health. To protect it, it is necessary to reduce emissions but also monitor global chemical changes taking place in the atmosphere. From the economic and safety points of view, it is also important to monitor industrial gas emissions.
It was to tackle these different aspects that IFPEN's researchers began developing a range of technological solutions, within the context of the Flair Suite™ project. 
The objective for the multidisciplinary team was to develop tools and models making it possible to geolocate, identify, quantify and understand all sources of greenhouse gas emissions and gas pollutants, of natural or industrial origin. Initially focusing on monitoring CO2 within the capture-storage context, the project then shifted towards the natural gas, biogas, petrochemicals and waste management industries.
Currently under development are:
  
Gas monitoring stations (fixed and mobile) dedicated to monitoring air quality, detecting network gas leaks (Flair box™, Flair car™) and diffuse leaks at ground level (Flair soil™)[1].
   

Software and algorithms for real-time gas concentration mapping (Flair map real time™), leak point calculation (Smog Leak) and plume modeling[2].
 
Click on the picture to enlarge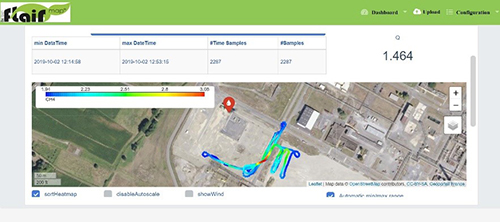 Click on the picture to  see the animation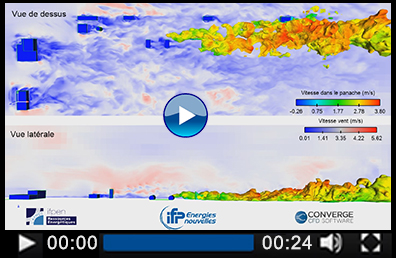 A web application (Flair map™), created with xDash, providing accurate and fun presentation of data[3].
  
Click on the picture to enlarge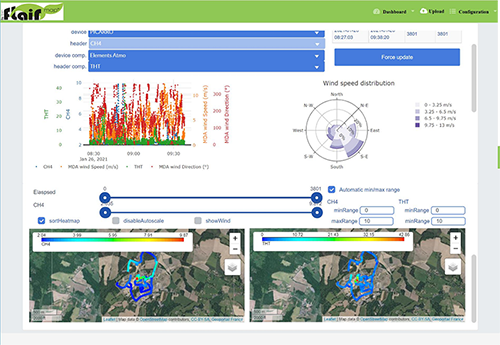 New fields of application
Monitoring stations are configured to detect the slightest gas leaks in the ground or surrounding air. In order to characterize the origin of these leaks as accurately as possible, the panel of molecules monitored is constantly being expanded. Some twenty or so molecules can currently be measured in ppb from our monitoring stations. Natural gas emissions (ground gases and those associated with biomass, geothermal energy, permafrost, etc.) are also studied in the Flair Suite™ project, paving the way for potential fields of application. 
Olfactory pollution is another major area of focus in the project. The Flair box™ is thus capable of measuring a cocktail of odorous molecules at very low concentrations (ppb) in the atmosphere:
   
natural foul-smelling substances (containing ammonia), found in manure, for example;
   
synthetic substances, such as tetrahydrothiophene (THT) added to natural gas to facilitate leak detection or pleasant fragrances sprayed to mask industrial site seepages.
   
The solution has been used in real conditions to differentiate between the smells emanating from two industrial sites: a natural gas storage facility (rotten egg smell: THT) and a household waste storage facility (fermented cabbage smell: thiols).
     
Evolution of Flair: nose, eyes and ears 
 
Researchers are now working to enhance Flair with new sensory functionalities to add to those already provided by gas monitoring stations (figure). For example, the processing of images from monitoring station onboard cameras (fixed and mobile) will optimize gas concentration maps: an algorithm will make it possible to display a 360° photo of the environment in the event of an abnormal gas reading. Similarly, the study of sound frequencies around monitoring stations will be combined with atmospheric date, in order to characterize recorded gas reading anomalies (leak noise, passing vehicles, etc.). 
Lastly, for reasons relating to the accessibility of sites to be studied, it is necessary to be able to place monitoring stations onboard different modes of travel: on foot, car, drone, bicycle, etc. Technological research is therefore under way to reduce the size and weight of stations.
    
---
Publications:
[1] Patent: France (NP) - 23 April 2020 - 20/04.067 "Système et procédé pour la surveillance de fuites de gaz au moyen d'une mesure optique" (System and process for monitoring gas leaks using optical measurement methodologies).
[2] Kumar P., Broquet G., Yver-Kwok C., Laurent O., Gichuki S., Caldow C., Cropley F., Lauvaux T., Ramonet M., Berthe G., Martin F., Duclaux O., Juery C., Bouchet C., Ciais P., Atmos. Meas. Tech. Discuss. [preprint], in review, 2020. https://doi.org/10.5194/amt-2020-226.
[3] Berthe G., Rouchon V., Ben Gaid M., El Feki A., Int. Arch. Photogramm. Remote Sens. Spatial Inf. Sci., XLIII-B4-2020, 775–779, 2020. https://doi.org/10.5194/isprs-archives-XLIII-B4-2020-775-2020.    
   
Scientific contact: guillaume.berthe@ifpen.fr
You may also be interested in