19.10.2022
15 minutes of reading
The use of fundamental research to fuel the technological developments necessary for the energy transition is a core part of IFPEN's roadmap. One of the main challenges that has to be overcome to achieve carbon neutrality by 2050 is the need to obtain even more detailed parametric descriptions of energy production and conversion processes and systems. This requires the gradual replacement of global approaches characterizing the inputs and outputs of these systems with methods based on knowledge of the descriptors governing the detail of the physicochemical mechanisms at play, with the ultimate aim of establishing predictive constitutive laws. In this context, six articles are featured in this issue of science@ifpen. 
The first two concern cheminformatics. Firstly applied to managing the compatibility between a polymer and a fluid, an essential aspect when designing a biofuel distribution system. A strong coupling between molecular descriptors and fluid descriptors is introduced in order to construct a set of parameters that can be directly interpreted by machine learning algorithms. These algorithms are also used to identify the chemical properties that control aging by oxidation of new fuels. 
The next two articles focus on catalyst optimization. The tortuous paths taken by gases are characterized using digital twins. Catalyst optimization also benefits from the now systematic integration of catalytic descriptors in chemical kinetics models. 
In addition, our understanding of the interactions between all the non-linear phenomena associated with turbulence and hydrogen combustion in an IC engine is progressing via the introduction of descriptors based on new modal decompositions of aerodynamic signals from simulations. 
 
Finally, IFPEN is optimizing the prediction of expected coastline changes through the introduction of specific descriptors, combining existing satellite data with information gathered from the field.
I hope you enjoy reading this issue.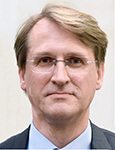 Luc Vervisch
    Chairman of IFPEN's Scientific Board
    Professor at lNSA Rouen Normandie
    Member of the Institut Universitaire de France
   
---