Our aim 
To create wealth and jobs by supporting the economic activity and competitiveness of innovative start-ups and SMEs, particularly in the fields of the energy transition and the environment.
 
How?
By providing access to our skills and resources.
 
Who for?
Any company, from start-up to intermediate-sized company, driving an innovative project.
 
"Supporting SMEs in their R&D projects is one of IFPEN's missions: we have been doing so since 1989
and have already backed 400 companies, creating more than 1,200 jobs in the process."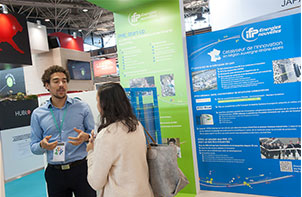 Each year:
•   300 companies met
•   50 applications examined
•   for 20 contracts signed / 3 jobs created on average
The strength of a network
Not only do our SME partners have access to our technical resources and the skills and expertise of our researchers in more than 50 disciplines, but also to our entire ecosystem and network of academic and industrial players.
For our part, we play an active role in a number of initiatives aimed at supporting SMEs, including:
the SME pact, aimed at encouraging closer ties between SMEs and large companies,
the Carnot Institute network, which facilitates partnerships between SMEs and public research players.

 
Would you like to meet us to present your project?
Would you like to meet us to present your project?
A team made up of nine innovation experts is here to listen to your needs and support and guide you through your project!