Risers and flow lines
Our solutions
IFPEN develops solutions to produce offshore oil and gas fields and optimize oil and gas flows from the reservoir through to treatment facilities.
 
Offshore drilling equipment
Clip Riser® and i-Clip Riser™ 1.0
Clip Riser® technology is a tried and tested fast connector system for drilling risers, developed by IFPEN since the 1980s. It is a solution designed to provide a secure connection between drilling risers and reduce the immobilization time of offshore vessels.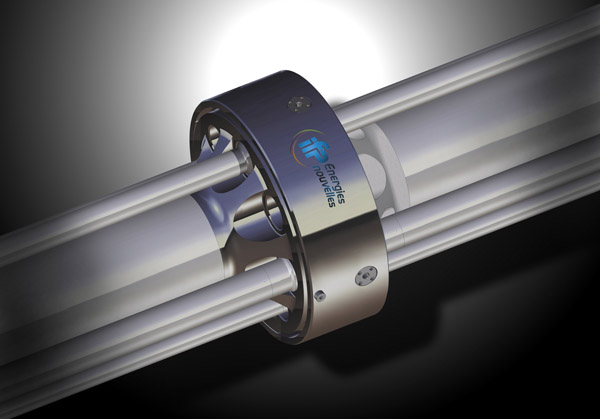 More than 40 risers equipped with Clip Riser® technology sold to date.
In order to offer a high level of service to Clip Riser®customers for the inspection, maintenance and repair of their drilling risers, IFPEN joined forces with AFGlobal Corporation and Expert Riser Solutions, which inspect, maintain and repair drilling risers, on land in both Brazil and the USA, as well as offshore around the globe, in line with IFPEN's specifications.
IFPEN also signed a licensing agreement with AFGlobal Corporation concerning the supply of spare parts throughout the world, meeting the technical specifications of the original parts.
The i-Clip Riser™ 1.0 is the new generation of connector systems for drilling risers, qualified by IFPEN in 2018 and certified according to current API standards.

The advantages of this new generation :
easier inspection and maintenance (removable locking collar/connector can be completely dismantled),
compatible with Clip Riser® technology for upgrades.
 
Hybrid steel/composite line for drilling risers
A technology for high-pressure applications making it possible to make drilling risers lighter thanks to the use of a composite material to reinforce the pipes.
 
Safety lines (choke and kill lines) (15,000 psi-1,035 bars)
Main characteristics:
composite winding (carbon fiber/thermoplastic matrix) under tension,
the steel tube is resistant to tensile stress,
the carbon fiber reinforcement further improves resistance to pressure,
qualification of the 1035 bar technology via a 5-year field test.
Advantages:
50% reduction in the weight of the safety lines (choke and kill lines),
20% reduction in the weight of the riser,
simple joints compatible with all types of connectors and riser.
 
Safety lines (choke and kill lines) for high-pressure/high temperature application (HP/HT) (20,000 psi /1,500 bars and ≥180°C or 350°F)
The advantages of this new generation:
1 hybrid tube for a 20,000 psi application lighter than a standard steel tube for 15,000 psi application,
compatible for upgrades (1,035 bar application to HP/HT application) with the same buoyancy modules.
 
4th-generation heave compensator
IFPEN proposes a new heave compensator concept that improves the precision of the device, while reducing the amount of onboard compressed air.
Advantages:
passive safety system,
high-pressure gas capacity volume cut by a factor of 3,
increased hook load accuracy (error < 0.6%),
no cable length variation (reduced cable wear),
compatibility with existing modules, making it suitable for use for upgrades.
 
Offshore production equipment and expertise
Flexible risers and flow lines
In the field of risers and flow lines, IFPEN is developing equipment in partnership with Technip FMC. IFPEN was the pioneer of flexible line technologies and continues to boast considerable expertise in their design and development. This expertise enables it to conduct research dedicated to the specific problems facing industrial players.
New technologies, such as carbon fiber armors and anti-H2S sheaths, are marketed by Technip FMC. Objective: to broaden the scope of use of flexible pipes for deep water applications and exposure to corrosion.
 
Flexible composite armors (carbon fiber)
Advantages:
lighter pipes: weight reduction of up to 20%,
elimination of corrosion problems associated with the metal structures,
cost reductions.
 
Flexible pipelines with anti-H2S polymer sheath
Advantages:
improvement in the equipment's corrosion resistance (H2S content in production fluids of up to 15,000 ppm, to a temperature of 70°C [158°F]),
reduction in the quantity of steel used in the annulus,
lighter pipes: weight reduction of up to 30%,
cost reduction,
possibility of operating in deeper water or increasing pipe diameter,
possible uses: production operations in very sour fields, static applications (hose laid on the seabed) and non-dynamic applications.
 
Numerical simulation tools for seabed-surface links
Analysis of seabed-surface links: DeepLines®
The DeepLines® software used to analyze the dynamic behavior of risers, umbilicals and floating mooring systems was jointly developed with Principia, which is responsible for marketing the solution.
 
Assistance for the dimensioning of umbilicals and flexible pipes
Development example: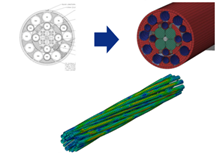 FEMUS™
Custom-developed for our partner within the framework of the IFPEN-Technip FMC partnership, IFPEN is developing FEMUS™, interfaced with the Abaqus® software, dedicated to the automated construction of simulation models for umbilical systems. This tool makes it possible to develop new umbilical designs more quickly, precisely evaluating their mechanical performance.
  
Numerical tools (calculation using the finite element method) for the prediction and understanding of the behavior of rigid pipes, flexible pipes and umbilicals
Examples of research activities conducted, within the framework of the IFPEN-Technip FMC partnership, on mechanical resistance and the influence of the installation method for reeled rigid risers: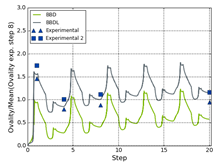 Numerical prediction of steel riser ovalization during installation
Proceedings of the Twenty-seventh (2017) International Ocean and Polar Engineering Conference San Francisco, CA, USA, June 25-30, 2017
Copyright © 2017 by the International Society of Offshore and Polar Engineers (ISOPE)
ISBN 978-1-880653-97-5; ISSN 1098-6189

Calculation of cable stress history during installation operations
OIPEEC Conference – Amsterdam – March 2019
Examples of research activities conducted, within the framework of the IFPEN-Technip FMC partnership, on the deformation of the structure of flexible pipes under high pressure conditions: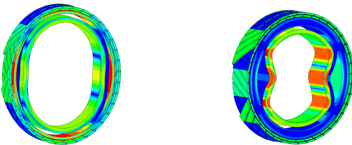 Deformation of the structure of flexible pipes in high pressure conditions
Proceedings of the ASME 2017 37th International Conference on Ocean, Offshore and Arctic
Engineering OMAE2018 June 17-22, 2018, Madrid, Spain

Stress calculation in the armor layers of operating flexible pipes
2011 SIMULIA Customer Conference – May 17-19 – Barcelona, Spain
Stresses in armour layers of flexible pipes : comparison of Abaqus® models
Multiphase pumping technology
IFPEN has considerable experience in the design of pumping systems and develops multiphase pumps. They make it possible to increase the pressure of unseparated liquid and gas production effluents for a broad spectrum of gas content levels, in order to transport them over long distances in flow lines. This technology makes it possible to:
increase the volumes produced and stabilize the production flow,
bring back on stream wells at the end of their life.
 
The Poseidon™ pump range enables the simultaneous transport of liquid and gas effluents, with a gas content ranging from 0 to 100% (preferably 80%).
  
Poseidon™ downhole pump 
More than 1,000 units sold.
  
Poseidon™ pump for submarine applications marketed by OneSubsea
More than 60 units installed.
The dimensioning and performance prediction of these pumps are carried out using design software developed in partnership with OneSubsea. With a view to optimizing pump performance, IFPEN is working to improve existing blades and define a new-generation hydraulic pumping system.
  
Flow assurance
In the field of flow assurance, IFPEN develops – or co-develops through R&I partnerships – models, test methodologies and solutions to:
understand and represent the physics of complex flows present in flow lines,
prevent or remove flow line blockages.
 
Research focuses primarily on:
understanding hydrate formation in flow lines, their transport, the risks of plugging and, where necessary, the appropriate methods of plug dissociation,
monitoring and modeling paraffin deposits in order to anticipate deposit growths,
paraffinic crude gelation and associated re-start problems.
 
Our service and expertise offer can take the form of studies or collaborative research projects. IFPEN organizes and coordinates JIPs (Joint industry projects), collaborative research projects bringing together industrial partners who jointly finance a program designed to understand and solve a target problem. With these projects, the financial risks are shared upstream and research results are shared downstream. They thus provide a platform for exploring avenues leading to innovations and give the partners a genuine competitive advantage with rapid access to new data, new analyses and new technologies. IFPEN is coordinating JIPs in partnership with more than 30 national and international operating companies.
 
Sensor dedicated to the early detection of a hydrate formation risk
ATOLI JIP. Objective: the development and qualification of an industrial prototype making it possible to better anticipate hydrate risks and thus reduce operating costs associated with the protection of flow lines using thermodynamic inhibitor injections.
 
Paraffin deposit monitoring and modeling system
The launch of a JIP in 2019 on paraffin deposits, with new deposit formation monitoring tools that will make it possible to:
gain a better understanding of deposit processes,
qualify deposit detection and monitoring methodologies.
 
Studies (additives and procedures) to prevent hydrate plugging in flow lines
In this area, the two phases of the AHToL (Additive and Hydrate at the Top of Line) JIP and the HYSIFLO (Hydrate Slurry Impact on the FLow properties of Oil fields) JIP involved working on the impact, control and optimization of additive injection, in gas and oil-dominant systems respectively, the objective being to provide operators with experimental proof and/or an extrapolation tool to help them choose their hydrate management strategy as a function of their field's operating conditions.
« A JIP conducted by Technip FMC culminated in a global first. Tests took place between 2013 and 2015, with the formation and dissociation of hydrate plugs weighing 200 kg, on a heating pipe prototype built by TechnipFMC, connected to IFPEN's testing facilities in Lyon. Different dissociation conditions were studied with a view to defining and validating operating procedures for the monitoring and safe dissociation of hydrate plugs by active heating. »

Martin Gainville, Fluid mechanics engineer, IFPEN
 
The cold restart of paraffinic crude oil flow lines
The 6th phase of the COLDSTART JIP began three years ago with three industrial partners (Alyeska Pipeline, Petronas, TotalEnergies) working alongside IFPEN. Objective: to gain a better understanding of the behavior of waxy crude oil in complex conditions (e.g., the impact of pressure or the presence of solid particles).
 
The problem of corrosion in offshore production